With so many choices, we want to help you navigate your next vacation search using some of the quick access tools that our travelers love.
We have updated the search feature for you.

New Ways to find your next Vacation
You could always search by City, State, Country. Now you can also search by your favorite Destination or the Sundance Curated Properties in the Search box. Just start typing in the box and choose one of the results that are populated in the drop down.
Destination Searches
You know you want to take your family to visit Disney, but maybe you didn't know you had to search Kissimmee to find the closest resorts to the park. Now, you can type Disney as the destination in the search box. Properties associated with your destination, either by the nearest major airport or nearby city will appear in the results called "Disney."

Search by Resort Name
Our partnerships are ALWAYS changing, and we select the best of the best for you in key areas to make your vacations the most enjoyable. These are the properties that we own or have the closest relationships with. You can search by resort name for the "Sundance Curated" properties designated by a beachball on the photo. If find a resort that you love, and it's not a Sundance Curated property, add it to 'favorites' and it will always appear in your search for that area.

Check out the new check-in dates!
Vacation weeks start on Fridays, Saturdays, or Sundays. When you choose your check in date- we'll auto populate the check out date for 7 nights and automatically include all properties that have a check in during that weekend so that you don't miss an amazing opportunity to travel to a fun property that only offers check in on Saturday.
The "Near Matches" give even more flexibility in travel by displaying results are 1 week prior and 2 weeks after the date you entered.
Customize your results with "Sort Available Unit" and other filters
Once you are viewing the available dates at a property, you can use the filters to fine tune your results. If you are flexible regarding your travel dates, this is a great way to expand the results to include check in dates that are 30 days prior or after. These same filters can also be used to narrow the search to a specific unit size or a more specific date range. The results change automatically when you make changes in the filter box.
Also, you have to use the left hand filters, especially the country filter, to narrow down the giant list of bonus weeks. Looking for something domestic- choose USA in the country filter. You can also choose multiple countries by re-clicking the list and making additional selections. Just click go when you have made all your selections.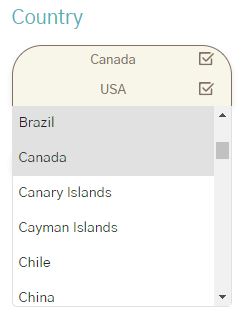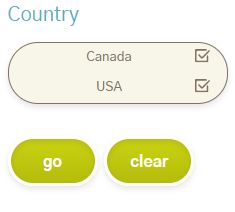 Age of travelers. What's up with that?
All-inclusive properties are really popular among our travelers. These properties include all of your meals, drinks and lots of activities for an additional fee. Some resorts price the meal packages differently for children of varying ages and more for guests who are over 21 who may be enjoying Mai Tai's by the pool. We collect traveler ages for all reservations (even if you are not booking an all-inclusive location) so the data can be shared automatically to the resort when applicable. Complete the age selections once, and they will remain for all searches during your logged in session.
What's the Advanced Search?
The advanced search hyperlink can be found on the bottom right of the main search box. It expands the search box and gives you access to limit search results by certain popular amenities (pool, fitness center, etc) and activities (beach, golf, tennis).
Bonus weeks. Cha-cha-cha-ching!
If your destinations are flexible or if you can enjoy last minute travel, then bonus weeks are for you. If you check the "bonus weeks only" search box, your results will exclusively display bonus weeks. They are unlimited, don't take a week out of your package, and update daily.

So many ways to search for your next vacation…
Need ideas on where to travel? Some clients love the visual search tools that help them find destinations in the most popular areas. Check out the search tiles on our home page. Click on the Sundance Vacations logo to return to the home page and scroll down to choose from: areas, all-inclusives, bonus weeks, and hot deals.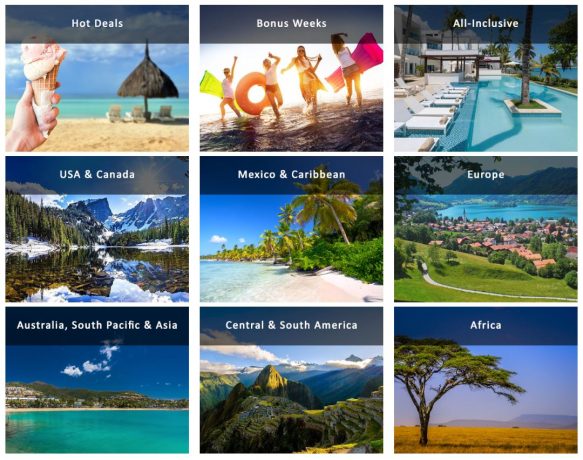 Some boxes like the USA box allow you to drill down and see additional selections. For example, clicking on the South Carolina Tile is the same as typing "South Carolina" and choosing South Carolina (State) in the main search box. The main search box allows you to enter dates whereas the pre-made tile is best for browsing. This type of search may not display all available sources because some partners do not allow us to query an entire year of availability.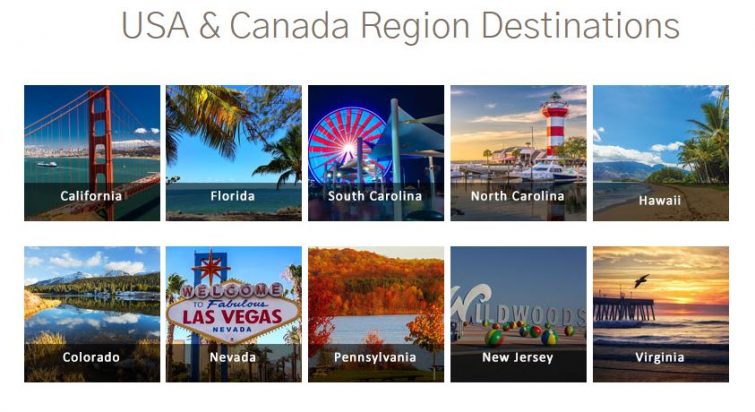 Map View
You can also search via the Map View from the search tile or from the top navigation bar. This is perfect for browsers and dreamers who are not sure where they want to go but want to see some popular destinations represented on a global map. The map view shows 7 night stays from our resort partners. Click on the circles to zoom in to areas until you get to the property listing. New data is updated several times a day but it's not real-time. So, if you find something you love and it's gone, that means some lucky traveler got first. But no worries, because we have thousands of destinations you can still choose from!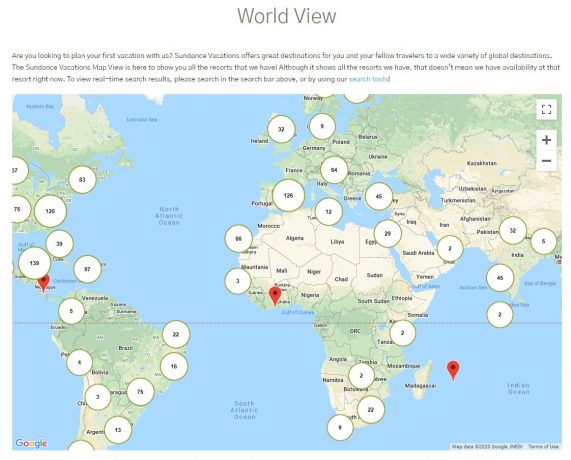 New Groupings
We have added convenient categories to help organize the results on your screen. Search Results are always presented in the following order:
Favorites (Any properties that you have added to your favorite list will appear first for an area)
Sundance Curated Properties (The beach ball icon is the designation for this group)
Preferred Partner Resorts (look for the icon of a hotel and palm tree)
Others when applicable
Each section displays the top result until you choose to expand that section. Choose More to expand or Less to collapse the section. Don't forget to expand the section to see all of the results in that category!
We have built these various tiles, maps and search tools to help you navigate an entire world's worth of vacation destinations. Click around and have fun. You may discover an unknown gem that you never would have considered. Our Customer Experience agents are standing at the ready to help you find your next dream vacation. Call us if you need assistance. 1-800-210-5500.
Best wishes and happy Vacations!
Team Sundance