Start Traveling with Sundance Vacations, Login to Redeem Your Certificate, and More!
After travelers come into one of our Sundance Vacations sales offices to learn about our innovative travel program, they receive our current promotional trip and are also asked to rate their experience with Sundance Vacations, login to redeem their certificate and begin traveling. We strive for 100% customer satisfaction always want to provide a 5-star experience.
The vacations change frequently to provide unique experiences for prospective travelers but the one thing remains the same is how easy it is to redeem the complimentary trip.
Follow these five simple steps to start traveling!
Visit GOCRV by entering your nine digit registration number in the frame below or visiting their website by clicking GOGRV.
Step 1: Register the Certificate at GOCRV.Com
Within 60 days of receiving the certificate from Sundance Vacations, login to GOCRV.com to activate it.
Travelers can do this by going to the CRV website and entering the certificate number and a valid email address. After hitting submit, they'll receive an email to confirm the certificate was activated.
Step 2: Send in Your Deposit
Within 14 to 30 days of registering on GOCRV travelers receive another email instructing them to print an invoice and send in the deposit.
A $99 per-person deposit is required at this time (via check, money order, or cashier's check), which goes toward the taxes and fees associated with the trip.
If a traveler did not get the email, they should check the spam/clutter folder or log back onto GOCRV to check the status of the reservation.
Step 3: Select Travel Dates
After the deposit is processed, travelers will get another email asking them to visit the GOCRV website to choose three travel dates.
We ask travelers to choose three tentative dates to ensure availability. Here they can also print a receipt of the deposit for their records.
Step 4: Set Your Reservation
Travelers will receive another email 30-45 days before the first selected travel date. Keep in mind, this is not 30-45 after travelers go online to choose the dates, it's before the earliest date selected. For example, if someone selected April 7, 14 or 21 as the three tentative travel dates, they'll receive an email 30-45 days before April 7.
From here travelers will be asked to confirm the dates and browse through potential enhancements for the vacation.
Travelers will then be prompted to call 954-315-8758 to speak to a representative to finalize the trip details. The best times to call are between 9-11 a.m. and 2-5 p.m.
Here guests will pay the remainder of the fees and taxes, and remember, the deposit will be put toward covering the port charges and taxes.
Step 5: Celebrate! You're Booked
Time to start planning an awesome vacation, watch this countdown till the trip video to get started!
We're excited to help travelers get away. Start planning the trip by checking out our Sundance Vacations Blog.
Reminders
Travelers have one year from the date on the certificate to complete travel.
After the Sundance Vacations certificate is registered in a specific person's name it cannot be transferred. However, prior to registering it online, it may be given to someone else.
If at any time a guest would like to check the status of their trip, they can visit GOCRV.com and enter their email to start traveling with Sundance Vacations. Login access to the site will give your current status and what needs to be completed. (**Look for the green status button in the bottom right hand corner of the screen.**) Travelers can also call 954-525-1777 at any time to speak to someone about the Sundance Vacations Promotional trip.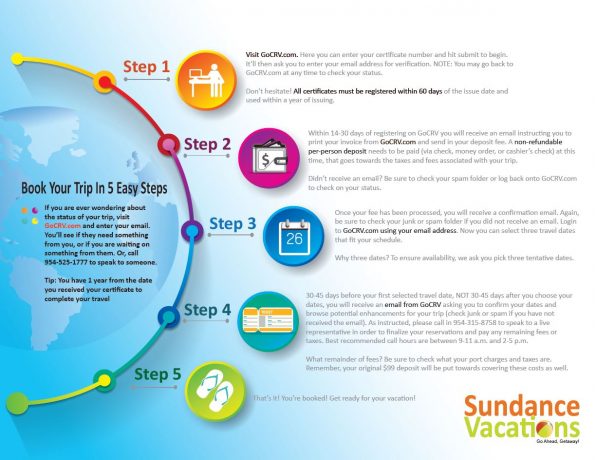 Who is Sundance Vacations?
If you did not attend a Sundance Vacations presentation and have stumbled upon this page, let us tell you a little more about us.
We're a travel company with over 25 years of experience make traveling affordable and easy!
We run an annual Sundance Vacations sweepstakes to give away $50,000 to a lucky traveler. We ask some of the people who signed up for our sweepstakes to come into our office to learn more about our vacations in hopes that we can help you plan your dream getaway.
As a thank you for attending a multimedia presentation detailing our travel program, attendees walk away with a complimentary vacation for coming in.
This page was designed to help those who received a complimentary trip to redeem their travel certificate.
Learn more about people who visited our office here:
Our Sundance Vacations promotional trip is not a "free" vacation and it is not a prize you "won," rather, it is an opportunity for you to travel at an immense savings.
There are fees associated with the trip, such as required port charges and taxes that we do not cover, but the accommodations and sometimes airfare are on us.
For questions about our current promotional offer, check out our Sundance Vacations Trip Details page.
Ready to travel? See if you qualify for a trip on our website.
For more information, updates, travel tips and news from Sundance Vacations, be sure to follow us on the following social media outlets: