SUNDANCE VACATIONS WINS SILVER STEVIE© AWARD IN INTERNATIONAL SALES & CUSTOMER SERVICE COMPETITION.
LAS VEGAS, NEVADA – February 28, 2017 – Sundance Vacations has won a Silver Stevie© Award for the Innovation in Sales category in the 11th annual Stevie Awards for Sales & Customer Service.
The Stevie Awards for Sales & Customer Service are the world's top honors for customer service, contact center, business development and sales professionals. The Stevie Awards recognize several of the world's leading business awards programs including the prestigious American Business Awards and International Business Awards.
The awards were presented during a gala banquet on Friday, February 24 at Caesars Palace in Las Vegas, Nevada. More than 650 executives from around the world attended.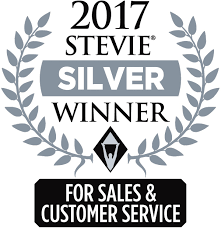 More than 2,300 nominations from organizations of all sizes and in virtually every industry were evaluated in this year's competition, an increase of 10% over 2016. Finalists were determined by the average scores of professionals worldwide, acting as preliminary judges. Entries were considered in numerous categories including Sales Growth and Achievement for which Adobe Systems, San Jose CA won a Silver, Online Sales Team of the Year for which GoDaddy, Scottsdale, AZ took home a Bronze; Contact Center Professional of the Year, for which Delta Air Lines Inc., Atlanta, GA received a Gold and more than 53 other categories for sales and business development achievements
More than 75 members of several specialized judging committees determined the Gold, Silver and Bronze Stevie Award placements from among the Finalists during final judging earlier this month. Finalists were determined by another 77 judges.
When clients purchase a vacation package, Sundance Vacations helps them book their first vacation immediately so they can start planning that Disney Vacation they've always dreamed of taking. Our goal is to make it easy for clients to start enjoying their vacations immediately. "We are so proud of our sales team and their ability to adapt to, and improve upon, company initiatives to deliver the best vacation experiences to all our travelers" said John Dowd, CEO Sundance Vacations.
"The Stevie Awards for Sales & Customer Service continues to be among the most competitive and fastest-growing of our awards programs," said Michael Gallagher, founder and president of the Stevie Awards. "The growth of the program illustrates the importance of the functions highlighted – sales, business development and customer service – to successful enterprises of all types, and how integral recognition in these domains are to building and maintaining corporate reputations."
Details about the Stevie Awards for Sales & Customer Service and the list of Stevie winners in all categories are available at www.StevieAwards.com/sales.
About Sundance Vacations
Sundance Vacations is a national travel company that specializes in vacation accommodations. The company is headquartered in Wilkes-Barre, PA and maintains offices in New Jersey, Washington DC, Pittsburgh, Northeastern Pennsylvania, and beyond. Sundance Vacations placed in the Best Place to Work in Pennsylvania by Best Companies Group for four consecutive years. The company has also been honored twice as one of the Fastest-Growing Travel Companies in Pennsylvania by Inc. 500/5000.
About The Stevie Awards
Stevie Awards are conferred in seven programs: the Asia-Pacific Stevie Awards, the German Stevie Awards, The American Business Awards, The International Business Awards, the Stevie Awards for Great Employers, the Stevie Awards for Women in Business and the Stevie Awards for Sales & Customer Service. Stevie Awards competitions receive more than 10,000 entries each year from organizations in more than 60 nations. Honoring organizations of all types and sizes and the people behind them, the Stevies recognize outstanding performances in the workplace worldwide. Learn more about the Stevie Awards at www.StevieAwards.com.
Sponsors and supporters of the 11th annual Stevie Awards for Sales & Customer Service include Sales Partnerships, Inc. and ValueSelling Associates, Inc.
For more information, updates, travel tips and news from Sundance Vacations, be sure to follow us on the following social media outlets:
Latest posts by Sundance Vacations
(see all)