Sundance Receives Excellence Award
Sundance Vacations is proud to announce that it has received the Northeast Pennsylvania Manufacturers and Employers Association (NEPA MAEA) Excellence Award for Community Involvement!
This award is designed to recognize employers in the northeastern region of Pennsylvania that demonstrate a great commitment to the community that they reside in. Sundance Vacations was chosen based on their tremendous community involvement and focus on charity. The company not only donates monetarily, but also encourages its employees to get involved with local projects and community events.
Giving back to charities and organizations is nothing new for Sundance. A few months ago, the company launched a new charity website, www.SundanceVacationsCharities.org, which is specifically designed to showcase all of the great causes that they support.
This year alone, Sundance Vacations has helped to donate and sponsor events for the Wyoming Valley Children's Association, the Domestic Violence Service Center and the Penn State Dance Marathon (THON) just to name a few.
The company was also recently recognized in the award-winning business section of the Scranton Times-Tribune for their Traveler of the Day Contest. Through the use of social media, travelers are able to compete to win the contest each month. The winner is able to select a charity or organization of their choice and Sundance Vacations donates $500 to it in the traveler's name. To read more about the contest and who has been benefiting from it please read the full article on their Blog: "Traveler of the Day Contest"
"To be able to give back to a community and be part of something bigger really is an honor," Kelly Valovich said. Valovich is the Charity Coordinator for Sundance Vacations and accepted the award on its behalf. "We all have busy lives and we are trying to raise kids and have full-time jobs, but we always find a way to give back. I would like to thank John and Tina Dowd for letting me be a part of such a great organization to be able to give back to our community."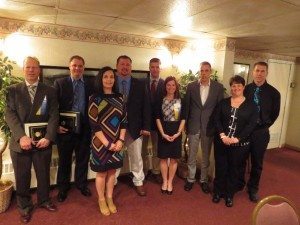 The NEPA MAEA Excellence awards dinner was held at the Top of the 80's Restaurant in Hazleton, Pa. on Tuesday, May 5. Other companies that were recognized during the awards ceremony included: Keystone Potato Products, Palram Americas, Henkel Consumer Goods, Solar Innovations, Air Products, Consumer Energy Alliance, Schaeffer's Sales and Service, Sterman Masser, Cardinal Systems InterMetro Industries and Mrs. T's Pierogies.
The company received recognition from the United States Senate, the United States House of Representatives, Both the State Senate and House of Representatives from Pennsylvania, the Pennsylvania Manufacturers Association (PMA) and of course, the Northeastern Pennsylvania Manufacturers and Employers Association (NEPA MAEA).
For more information about the NEPA MAEA, please visit their website at: www.maeaweb.biz
For more information, updates, travel tips and news from Sundance Vacations, be sure to follow us on the following social media outlets:
Latest posts by Sundance Vacations
(see all)