Sundance Vacations Gives Away $50,000 and More in Prizes
Each year, Sundance Vacations offers many prizes during the Sweepstakes Giveaway as a thank you for our traveler's enthusiasm about our travel program.
From gift cards to vacations, our prizes get travelers excited to be selected during our drawing each year between February and March.
This year, our Sundance Vacations Sweepstakes Giveaway 2015 had a terrific outcome.
Check out all the winners below!
$50,000 Grand Prize Winner
Our Sundance Vacations 2015 Sweepstakes Grand Prize winner is Dr. Eric O. from Lafayette, Indiana!
Eric O. entered our drawing at a Neil Diamond concert and tells us he is excited to use the winnings to help his daughter through college.
"It was pretty easy to register," Eric O. told Sundance Vacations the day he came to pick up his check, "They just have to fill out a short form that takes a couple minutes."
When asked if he would recommend others enter at an upcoming event, Eric O. said absolutely.
"I think it's always worth taking a chance and you might win just like I won!" Eric O. said.
$1,000 Gift Card Winner
Sumayah A. of Newark, New Jersey, won the $1,000 Gift Card Sweepstakes prize from Sundance Vacations.
Sumayah filled out the entry at the Christiana Mall and stopped by Sundance Vacations King of Prussia location to claim her prize!
Sumayah's husband, Mohammed, tells Sundance Vacations they could not be more excited.
"That was a blessing," Mohammed said. "Thanks, Sundance Vacations."
Sumayah tells us she was eager to share the news with friends and family.
50″ Television Winner
Jason D. from Folsom, Pennsylvania, won a Sony Bravia 50″ television from the Sundance Vacations Giveaway!
The TV, valued at up to $1,000, offers beautiful color, clarity and contrast and works with Netflix, Amazon Video and more.
Jason first entered the contest at a WWE event at the Wells Fargo Center and dropped by our Sundance Vacations King of Prussia office to grab his prize.
Enjoy the new TV, Jason!
Sports or Music Fanatic Giveaway Winner
Germaine H. and her husband Jim were the lucky winners of a sports or music giveaway.
The two came into our Sundance Vacations Pittsburgh office to collect their four ticket voucher from our Grand Prize Drawing.
The tickets can be used to receive four tickets to an upcoming sports or musical event up to $1,000 in value.
Germaine and her husband entered our contest at the Westmoreland County Fair and are from Greensburg, PA!
Fantasy Vacation Winner
Albert P. and his family came to our Sundance Vacations King of Prussia office to get his certificate for his fantasy vacation!
He won a three night stay retailed up to $1,000 in value. In addition to his boarding to the destination of his choice, Sundance Vacations cover Albert's round trip airfare there as well as treated him and his family to $500 spending money on his getaway.
Albert entered our drawing at Manayunk StEAT Festival and is from the Philadelphia area.
Curious to where you could go with us? Check out our awesome destinations on our website.
Want to get in on the action? Enter our sweepstakes next time you see us at an event.
Ready to travel? See if you qualify for a trip on Sundance Vacations.
For more information, updates, travel tips and news from Sundance Vacations, be sure to follow us on the following social media outlets:

Latest posts by Jennifer Villa
(see all)
Summary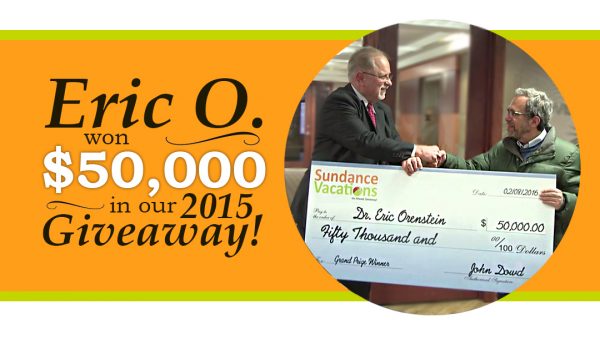 Article Name
Sundance Vacations Sweepstakes Winners
Description
Like many years in the past, Sundance Vacations Sweepstakes Giveaway 2015 offers out prizes like a 50" TV, gift cards, and the big grand prize of $50,000! 
Author
Publisher Name
Publisher Logo