On Thursday, September 5th the owners of Sundance Vacations treated their employees to a unique way to relax and enjoy the fresh air, blue skies and even a rainbow! They had a goat yoga session organized on the back lawn of their corporate office, located in Wilkes Barre, Pennsylvania. They invited Ashley, her daughter Willow, her husband Brock and her family of goats from Buttinhead Farms to a special Goat Yoga session. That's right, I said Goat Yoga!
Buttinhead Farms recently started in May of 2019! Ashley was a fitness professional and a goat farmer before starting her new adventure. She decided both worlds fit well together, and nervously signed the insurance policy for her new business opportunity just a few months ago. She wasn't sure if this sort of thing would be a hit or a miss, but she soon realized people love goats and yoga! I mean, what's not to love? They currently have twenty goats involved in their goat yoga operation. They have helped thousands of people experience this unique way of doing yoga. The past four months, her family has traveled all across Pennsylvania, and she has zero regrets about taking the huge leap of faith. I highly suggest taking a Goat Yoga session with Buttinhead Farms! The only expectation is that you simply leave the session happier than the moment you originally came. That's it!
Goat yoga is very beneficial to your body and mind. It helps lower your blood pressure and improves your cardiovascular system. You can almost instantly feel your stress levels decrease with each deep breath exhaling from your lungs. The goats also lifted your spirits; for a moment any thoughts of sadness, grief, anxiety or negative emotions vanish from your mind and body, because you're distracted by the goats and their tiny little costumes! Ashley was patient with us and taught us the different poses involved in yoga. I couldn't even tell you one pose coming into the session, but she showed us in detail how to practice them correctly.
We were in a large fenced in area with our yoga matts placed sporadically around. The goats had open access to everyone and just kinda did their own thing. If they wanted to jump on your back while doing a pose, they did. If they wanted to lick your cheek while you were trying to hold a steady pose, they did. Sometimes I skipped an exercise simply because there was an adorable baby goat who needed some attention. While we were doing certain yoga poses such as the "Downward Goat", the goats would climb under our legs and on our backs, balancing perfectly. During the group line up, the goats would walk back and forth across our backs, and one goat even fainted! I never saw a fainting goat before! I couldn't even tell you how many times I laughed throughout the hour-long session. My cheeks actually hurt from all the smiling and laughing. If you're looking for a serious goat yoga session, this is not for you. You will laugh, you will have fun and you might even get pooped on! That is actually a lucky thing, you may get a "poop prize".
Goat Yoga was my very first yoga session, and I'll be honest, I was only in it for the goats. I had zero interest or desire to ever participate in any sort of yoga sessions, I just wanted to snuggle with some goats. Once I got started, I actually really enjoyed it, and now I practice it on my own at home..without the goats unfortunately. I was pleasantly surprised at how much of a workout was involved in yoga, and the stretch my body endured was unlike any workout I have ever done. I felt amazing after the session.
The goat yoga session was paid for by John and Tina, but a donation was suggested. Those who participated in Goat Yoga raised $260.00 for the Eastern PA Animal Alliance in Wilkes Barre, PA!
"Embrace what makes YOU unforGoatable 🙋‍♀️ Don't let people make up your expectations..
Coming from a person that has been made fun of and still does… Haters will hate 😒
Be you because there is no other like your bad self…
As the trees lose their leaves, it's a great time to let whatever holds you back go 😊
Let that stuff Go!" – Ashley Raspen
---
More about The Eastern PA Animal Alliance
The Eastern PA Animal Alliance is a high-volume nonprofit, low cost spay and neuter clinic for cats and dogs. They have been helping their community for the past 10 years, and their mission is to prevent homeless animals, to relieve shelters from overcrowding and to help control the feral stray cat population. They depend on donations to remain open and operating.
---
Make sure to keep up with all Events Sundance Vacations support!
For more information, updates, travel tips and news from Sundance Vacations, be sure to follow us on the following social media outlets:
Latest posts by Krystal Porter
(see all)
Summary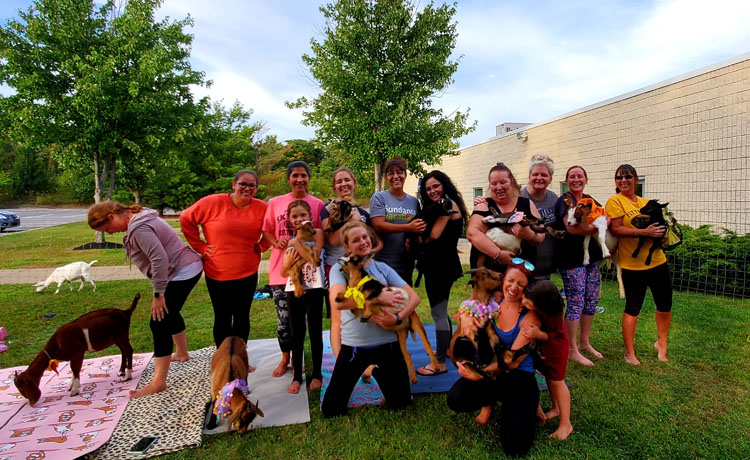 Article Name
Goat Yoga with Sundance Vacations
Description
On Thursday, September 5th the owners of Sundance Vacations treated their employees to a unique way to relax and enjoy the fresh air with Goat Yoga.
Author
Publisher Name
Publisher Logo