Sundance Vacations Race For The Kids Partnership
Sundance Vacations and the United Way of NEPA are partnering to sponsor the #55 with Premium Motorsports Driven by Derrike Cope in the Monster Energy NASCAR Cup Series. The partnership is part of the ongoing effort to raise awarness of the importance of early childhood education.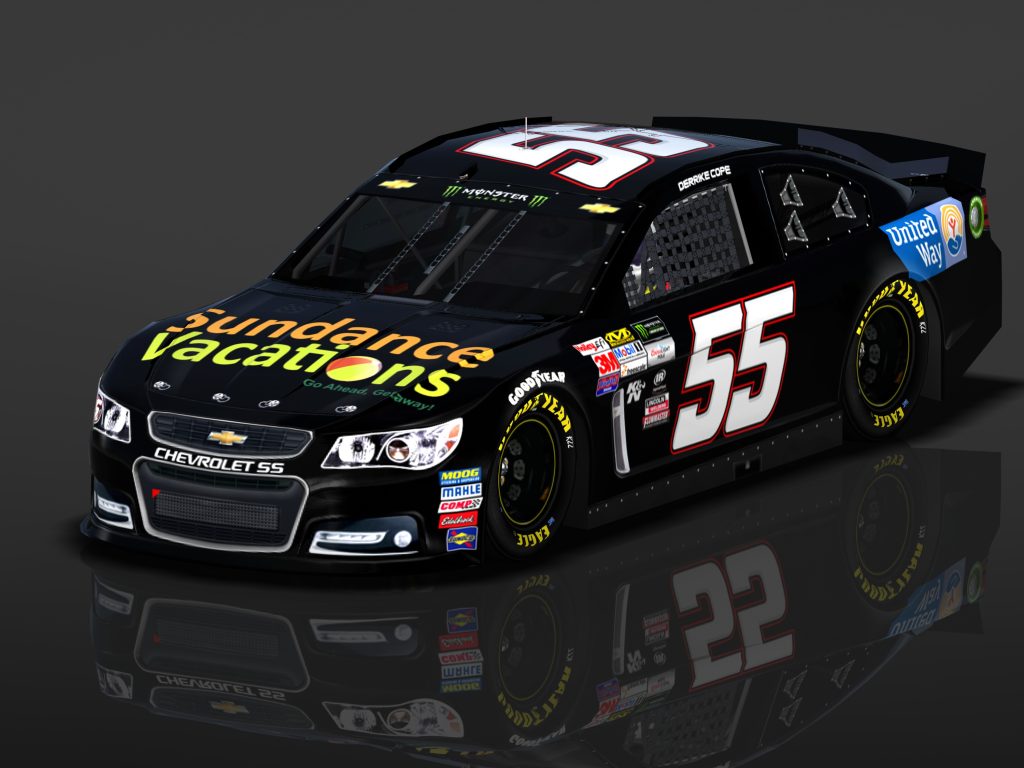 The United Way locations of Northeast Pennsylvania have a mission of supporting early childhood education. All of the United Way offices have missions that are specific to their region, ranging from the Wyoming Valley's Real Men Read, a program to help foster early childhood literacy, to Success By 6® in Lackawanna/Wyoming Counties, which supports a "whole child" approach to education, focusing on both cognitive skills and the child's social and emotional development. Sundance Vacations' mission of giving back to the community by partnering with organizations like the United Way is something they have been doing for over twenty-five years.
If fans would like to participate in helping the United Way raise money for the regional Race for the Kids initiative, they can donate to any United Way website. Sundance Vacations will also donate $100 to the United Way on behalf of each couple that attends a presentation. Guests can even book an appointment online with Sundance Vacations – it's very easy to do! We hope to raise awareness of the need for early childhood education, as well as raise funds for the community. Early childhood education is so important that states like California use educational proficiency by six years of age as a predictor of how many jail cells to build for the future. It's that important to our communities. We look forward to continuing our great relationships with NASCAR, the United Way, and all of our fans—and with 25 days until show time, our staff has kicked into full gear. Sundance Vacations CEO John Dowd and United Way President & CEO Bill Jones, along with the staff of both organizations, are committed to making the Race for the Kids one that goes down in history.
ESPN picked up the press on the Sundance Vacations sponsorship: http://www.espn.com/jayski/cup/2017/story/_/id/20153580/sundance-vacations-united-way-northeast-pennsylvania-join-cope-pocono
Get Involved:
Pocono Raceway, also known as the Tricky Triangle, is a superspeedway located in the Pocono Mountains of Pennsylvania at Long Pond. It is the site of two annual Monster Energy NASCAR Cup Series races held just weeks apart in early June and late July/early August, one NASCAR Xfinity Series event in early June, one NASCAR Camping World Truck Seriesevent in late July/early August, and two ARCA Racing Series races in early June and late July/early August.
Designed by the 1959 and 1962 Indy 500 winner Roger Ward,Pocono Raceway has a unique design. Each turn is modeled after turns at 3 different tracks. Turn One (14 degree banking) was modeled after the now defunct Trenton Speedway, Turn Two (also known as "The Tunnel Turn") is like Indianapolis Motor Speedway (9 degree banking), and Turn 3 (6 degree banking) is similar to The Milwaukee Mile. It could be said to be a tri-oval, but the turns are much more severe than those of a more typical tri-oval such as Daytona and the track is really nearly a triangle. They have been likened somewhat to the hairpin-style turns of road courses. An additional complication is that the three turns are not identical, nor are any of the three straights identical in length. The banking of each turn is considerably less than on many other long ovals. Although the track is long (2.5 miles), the sharp nature of the turns and low banking tends to make the overall speeds much lower than at other tracks of similar lengths, thus restrictor plates are not needed here. For its unique characteristics, Pocono is sometimes referred to as a roval (an oval track that behaves like a road course). Others refer to Pocono as a modified road course due to the use of shifting gears to handle the range between the slowest curve and the fastest straightaway.
For further information, make sure to check out the article on ESPN! https://goo.gl/gGXNzW
The Citizens Voice Coverage: http://citizensvoice.com/news/united-way-of-wyoming-valley-marks-end-of-christmas-in-july-food-drive-1.2224046
The cup scene coverage: http://cupscene.com/photos-nascar-pocono-raceway-sunday-july-30-2017/
The final lap weekley: https://thefinallap.com/2017/07/30/on-the-pole-for-the-2017-monster-energy-nascar-pocono-race-kyle-busch-starting-lineup/
WNEP newswatch 16 Coverage: http://wnep.com/2017/07/28/racing-to-feed-the-hungry/?vid=13429
---
Sundance Vacations is partnering with the Dover International Speedway to give fans the Pit Stop Experience and a chance to win Hot Passes!
Are you a NASCAR fan who wants to go to the next Race at Dover? Get the most out of a NASCAR experience with two Pit Stop Passes, and a chance to win TWO HOT PASSES!
If you qualify, you could get two complimentary VIP tickets & Pit Stop Experience Passes and be entered for a chance to win two Hot Passes for the October 1, 2017 Monster Energy NASCAR Cups Series!
How would you feel if you got a chance to meet drivers like Derrike Cope, or Dale Earnhardt Jr. during his last race at Dover before retirement? With the Hot Pass you could get that chance!
Call 800-893-1686 to see if you qualify and find out how to claim your Two Complimentary Tickets courtesy of Sundance Vacations!
For more information on the Pit Stop Pass, check out our Event Article!
What you get if you win the Hot Passes:
Before we get into what you get with them, you should know how hard they are to get! Hot garage passes are usually reserved for team members, sponsors and media. Occasionally races offer them for a hefty price, but we want to give them to you for FREE!
The Hot Pass will last all weekend, so if you go on Friday you can start checking out the pits then!
The Hot Pass lets you hang around and in the pits throughout the entire race!
Get unlimited access to everywhere and everything!
Find out if you qualify to get a chance to win two Hot Passes by calling 800-893-1686!
For Tickets to the Monster Energy NASCAR Cup Series along with all the other fun things you can do at Dover International Speedway: http://www.doverspeedway.com/oct-1-2017-tickets/
For more information, updates, travel tips and news from Sundance Vacations, be sure to follow us on the following social media outlets:
NEPA local Kyle W. stopped by our Wilkes-Barre office to pick up his winnings from the @DCopeRacing Tricky Triangle Giveaway! Congrats Kyle! pic.twitter.com/6YwYfCcICw

— Sundance Vacations (@travelsundance) August 8, 2017
Latest posts by Sundance Vacations
(see all)