A Brand New Day: Sundance Vacations Unveils New Look, With Same Commitment to Quality.
It's not just individuals that want a new look for the new year, companies do too. Sundance Vacations is pleased to reveal its new logo and launch of a refreshed brand identity. The company recently announced that it will introduce a new logo for Sundance Vacations as well as their other online sites such as sundancevacationscharities.com, and sundancevacationsnews.com. This is all part of a re-branding effort started 18 months ago with a fresh designs for all the showrooms.
The new logo embodies the commitment of Sundance Vacations to deliver the most current and popular vacation destinations to their travelers and enhance the joy of vacationing. Using a contemporary, pure and simple typography as well as modern color pallet, the company's new logo is modern and fun. Gone are the deep blue and orange colors that you are familiar with, as Sundance Vacations ushers in a fresh, innovative look.
The new visual identity builds on the company's leadership position and expertise in designing and developing vacation destinations that exceed traveler's expectations. "This is a very exciting time for Sundance vacations," said Tina Dowd, co-founder and CEO of Sundance Vacations. "For over 20 years we've focused on improving travelers experiences and our new look expresses that beautifully. Many large companies such as Starbucks, Pepsi, and Chrysler have logo evolutions and the time was right for Sundance Vacations to do the same."
Previous Logo: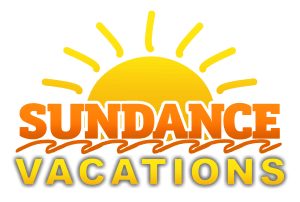 New Logo:
For more information, updates, travel tips and news from Sundance Vacations, be sure to follow us on the following social media outlets:
Sundance Vacations is atravel company with offices in New Jersey, Washington DC, Pittsburgh, and, Northeastern PA that specializes in providing destination based vacations to travelers who appreciate budget-friendly travel.
Latest posts by Sundance Vacations (see all)