Sundance Vacations Sweepstakes
Each and every year, our travel company holds a special giveaway, our Sundance Vacations contest, in which six lucky travelers walk away with fantastic prizes from our sweepstakes giveaway.
Why? Simply because we appreciate all the people who express interest in learning more about our travel services at various concerts, festivals and other venues we visit.
Travelers from all over have the opportunity to enter our sweepstakes. Winners for all the prizes are drawn in the beginning of each new year.
The year is almost over, so that means the 2017 grand prize sweepstakes will be coming to an end soon! If you don't enter before the last day, 12/31/2017, there's no reason to fret. You can sign up to enter for next year's grand prize!
When you're shopping for the holidays this year, or when you go to concerts, malls, fairs or other events, make sure to be on the lookout for a Sundance Vacations booth! All you have to do is meet the qualifications, fill out the form, and then you are entered to win!
2016 Grand Prize Winners
Our grand prize winner receives his or her choice of $50,000 in cash or a new car!
We also draw additional prize winner such as a new television, a 1,000 gift card, a dream vacation, and a sports or music giveaway.
The winners come into each of our offices to accept their prizes and our excited to share their smiling faces and show off their gifts!
$50,000 Grand Prize Winner
The biggest giveaway from our Sundance Vacations contest sweepstakes drawing is our cash or car prize winner! That means the the grand prize winner gets the choice of receiving a check for $50,000 or a new car.
In the 13 years that we have been doing this giveaway, each and every grand prize winner has chosen to take the cash.
Andre and Ksenia R. from Maryland are the Sundance Vacations grand prize contest winners! The husband and wife registered at the Ringling Brothers and Barnum & Bailey Circus at EagleBank Arena in Fairfax, Virginia. They came into our Sundance Vacations Washington DC location to receive their prize in the beginning of April.
Check out the video above to learn more what the couple plan's on doing with their winnings!
Fantasy Vacation Winner
Our Fantasy Trip winner came into our Sundance Vacations Washington DC office in the beginning of March to pick up his trip certificate.
John H. has originally entered our sweepstakes in January of 2016 when he found our stand at a Flyers game and was lucky enough to be picked between all the other entries that came in during the year.
He tells us he is still unsure about where he will go with his trip certificate but that he will be busy planning it over the next few weeks.



The 2016 Fantasy Vacation Winner at Universal Orlando in the beginning of December!
$1,000 Gift Card Winner
Our lucky winner of our $1,000 gift card giveaway was Elaina P. from Glenolden, PA. Elaina filled out her entry form when she visited the Philadelphia Premium Outlets.
She came into our Sundance Vacations King of Prussia office in the beginning of February to proudly accept and show off her two $500 VISA gift cards.
Elaina told us she isn't sure what she's going to use her gift cards on yet, but she plans on putting them to good use!
We hope she treats herself or her family to something special with the extra bling.
55 Inch Television Winner
Vicky C. tells us she was extremely excited to
receive her new 55 inch Sony television. Not only was it Ultra HD, but it also has 4K resolution and a two year extended warranty. She picked up her shiny new toy at our Sundance Vacations Pittsburgh, PA office in the beginning of February.
She filled out her entry form while visiting the Pittsburgh Zoo.
She shared that she is a recent Pittsburgh graduate with a PHD in bio-medicine and will enjoy watching her new television after work.
Thanks for entering, Vicky!
Sports/Concert Winner
Our Sports or Concert Fantasy winner came to our Sundance Vacations
King of Prussia, PA office mid-March to get his tickets.
Raymond K. is from Boothwyn, PA but filled out his sweepstakes entry at the Concord Mall in Delaware.
Instead of choosing the music option, Raymond said he preferred sporting event tickets. He is hoping to use his winnings to attend a Philadelphia Phillies game when the weather warms up.
Here's to hoping it's a nice sunny day for your game, Raymond!
Check out last year's giveaway winners: Sundance Vacations Sweepstakes 2015 Winners.
Be sure to enter our sweepstakes next time you see us at an event or fill out a raffle online by seeing if you qualify for a trip on Sundance Vacations.
For more information, updates, travel tips and news from Sundance Vacations, be sure to follow us on the following social media outlets:

Latest posts by Jennifer Villa
(see all)
Summary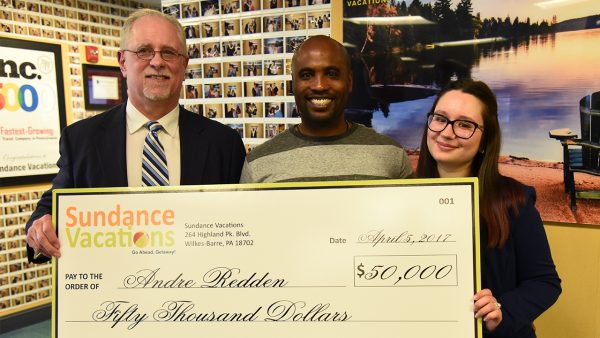 Article Name
Sundance Vacations Sweepstakes Winners 2016
Description
Our Sundance Vacations contest 2016 winners are announced! See who won our grand prize sweepstakes drawing and our other giveaway prizes on our News site.
Author
Publisher Name
Publisher Logo