The 2017 Young Professional of the Year Award is held in September at the THINK Center in Downtown Wilkes-Barre.
To be nominated for the Young Professional of the Year award, one must be considered an outstanding young professional who lives and works in the Greater Wilkes-Barre Area between the ages of 25-40, and is a rising star in their industry as well as their community. Nominees must also show efforts, both professionally and within the community, to make a positive impact on the Greater Wilkes-Barre Area.
The event will take place from 5:30 PM till 7:30 PM with hors d'oeuvres being provided by Ruth's Chris with drinks provided by Susquehanna Brewing Company.
Sundance Vacations is proud to have two employees nominated this year!
Ben Uzialko, Operations Manager and Paige Evans, Human Resources Recruiter of the Wilkes-Barre Corporate Office were both nominated for this award!
Ben serves as the Operations Manager of the inbound call center department at Sundance Vacations. Ben is responsible for managing 34 Senior Telephone Representatives/ Quality Assurance Representatives across 3 office locations including Tamaqua Pa., Shamokin Pa., and Wilkes-Barre Pa. His duties include but are not limited to being a team leader in teaching, coaching and encouraging these 34 individuals on a daily basis to work to the best of their abilities to meet company production benchmarks. As Operations Manager of Senior Telephone Representative and Quality Assurance Representative Departments. Ben's current business achievements include improving his STSR staff from a 7.5 closing percent to a consistent 9% closing, which as a direct impact on our company show ratio which has risen from 28% to 34%. He has taken is staff unavailable phone time from 58 hours a week to under 10 hours and he has helped plan and execute several training's and company-wide contests.
Paige works as Sundance Vacations' sole Human Resources Recruiter, and is responsible for the staffing of the company's nine locations, including the corporate office in Wilkes-Barre, PA. Her duties include full-cycle recruiting, managing retention, conducting new hire orientation, and handling the safety of each office.
One of Paige's greatest attributes is her ability to excite and engage new hires during the orientation process. She has put her creativity to work to restructure the orientation process which included revising the presentation to contain key topics for discussion to make it more interactive. Paige's main goal during orientation is to make new hires feel "at-home" once they enter the doors for the start of their career at Sundance Vacations. Paige always has a hand in organizing employee appreciation events. Whether it is creating cheerleaders out of lollipops for National Customer Service Week or organizing costume/attire contests for Holiday Events, she is always willing to put in a little extra effort to show her gratitude.
Paige has worked diligently to ensure the safety of each employee throughout the nine offices. Since taking over the Safety Committee, she has organized a strategic process to ensure all safety matters have been noted and resolved. This includes monthly conference calls, online webinars/training, and office inspections. Paige works one-on-one with every office to ensure they each have at least one safety-certified employee.
Many coworkers will be attending the event to show support in their fellow employees, and all Sundance employees wish them the best of luck!
Meet the Nominees:
Ben Uzialko:
Ben's has been with Sundance Vacations for 18 years this December, and you can see while working here he has made a tremendous impact in the Greater Wilkes-Barre Area by his awareness and involvement with multiple charities in the area. Some charity organizations Ben has had a personal hand in with organizing and executing fun events to help these organizations in his community include:
2014: Charity event "Dunk for a Cure" for The American Cancer Society
2015: Charity event "Sundance Carnival" for Ruth's Place
2015: Charity 5k run for the Leukemia and Lymphoma Society
2016: Charity event "Basket Raffle" for Wounded Warrior Project
2017: Charity event "Pictures with the Easter Bunny" for The Arc of Luzerne County
2017: Charity event "Sundance Vacations, Dress Down For Texas"
While volunteering he was able to participate in a Dunk Tank, improve his physical health for a great cause, and even train for a marathon with other members of the company! Volunteering doesn't have to be all hard work, like the time Ben hopped around the Office in an Easter Bunny Outfit! His staff also volunteers by making baskets and giving their time to help these charities. Talk about leading by example! Ben's most recent fundraiser is happening right now, and it's a hurricane relief fundraiser! There is nothing Ben wouldn't do to help others.
Paige Evans:
Paige is just getting started with Sundance Vacations, with her 1 year anniversary just passing in August! Paige might only be here for a little over a year, but that didn't stop her from already catching the bug for volunteering! Paige's first time volunteering with Sundance was for Allied Services Charity, Free Cone Day at Ben & Jerry's. During the Free Cone Day, Paige scooped ice cream for local ice cream lovers of all ages while sponsoring Sundance Vacations. Paige enjoys being able to help others and loves being able to put a smile on their face.
Before starting at Sundance, Paige was an avid volunteer for many organizations such as Blue Chip Farm, The Lands at Hillside Farms and Habitat for Humanity. When asked about volunteering, Paige already has plans to volunteer more with fellow Sundance employees, and is in the works of creating a new fundraiser for a charity close to her heart!

---
Whether someone has been here for close to 20 years, or just starting out, it's not hard to see when someone is a rising star in their industry, as well as their community. Sundance Vacations and their fellow employees are proud to work with such great members of the community, and will continue to show their support in Ben and Paige as they grow!
---
Update
The 2017 Young Professional of the Year Award was held Thursday, September 14, 2017 at the THINK Center in Downtown Wilkes-Barre.
There was only 17 nominees from the thousand business which are members of the Greater Wilkes-Barre Chamber of Commerce. Sundance Vacations would like to once again recognize Ben and Paige on their nomination and the impact they have on the business and community!
Nominees Ben and Paige were accompanied by fellow employees Valerie Burke, Jackie Quigley, Robert Orloski, and Co-Founder and Owner John Dowd.
During the event, Ben and Paige were interviewed by GWB Chamber Ambassador, Anthony Melf.
Congratulations to all nominees and this years winner, general manager of Mohegan Sun Arena, Brian Sipe, for being named Young Professional of the Year.
Make sure to keep up with all Events Sundance Vacations support!
View all charities Sundance Vacations Wilkes-Barre worked with here: Wilkes-Barre News.
To join in on Sundance Vacations charity efforts, please reach out on our Contact Us or follow us on social media to stay updated!
The 2017 Young Professional Award was held last night, and Sundance Vacations was represented by two nominees! https://t.co/B0JQZtp1xO pic.twitter.com/BTvK1GhgO0

— Sundance Vacations (@travelsundance) September 15, 2017

Latest posts by Robert Orloski
(see all)
Summary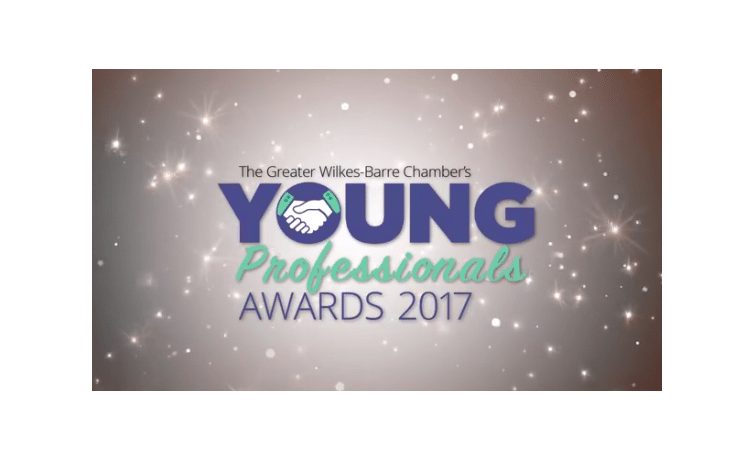 Article Name
Sundance Vacations is the presenting sponsor for the Young Professionals Awards 2017
Description
Two Sundance Vacations Wilkes-Barre employees are nominated for the 2017 Young Professionals Award!
Author
Publisher Name
Publisher Logo