Sundance Vacations Sweepstakes
Since 2004, Sundance Vacations has held a Grand Prize Sweepstakes contest giving away either $50,000 or a new car! For the past seventeen years, every winner has decided to take home the cash! We also draw additional prize winners for prizes such as a new television, a 1,000-gift card, a dream vacation, and a sports or music giveaway.
The winners come into each of our offices to accept their prizes and are excited to share their smiling faces and show off their gifts!
Throughout each year, Sundance Vacations collects entries from people at different events all around the United States. These events include: concerts, sporting events, trade shows, fairs and much more. Sundance Vacations keeps these entries all-year long and then randomly selects a winner in the first few weeks of January. After a year of collecting over 1 million entries, Sundance Vacations is happy to announce its Grand Prize winner!
Our grand prize winner gets his or her choice of $50,000 in cash or a new car!
Congratulations to William Olsen! William was selected at random as the grand prize winner in 2021 from all the 2020 entries. He entered at the Atlantic City in New Jersey! They were able to choose between a vehicle valued at up to $70,000 or a $50,000 cash prize! For the last seventeen years, every winner has selected the cash prize, which means Sundance Vacations have given away $850,000!
William visited our Parsippany Sales Office in 2021 to claim their prize. When asked what he would do with the winnings, William said, "I'll probably go right out there and talk to your reps about a Sundance vacation!"
Check out this video to learn more about what the William plan's on doing with the winnings!
---
Fantasy Vacation Winner
Bryce H. was the winner of the 2020 Fantasy Vacation!
Fantasy Trip is up to $1500 airfare, 3 nights hotel, and $500 spending money (ARV $3,000)!
---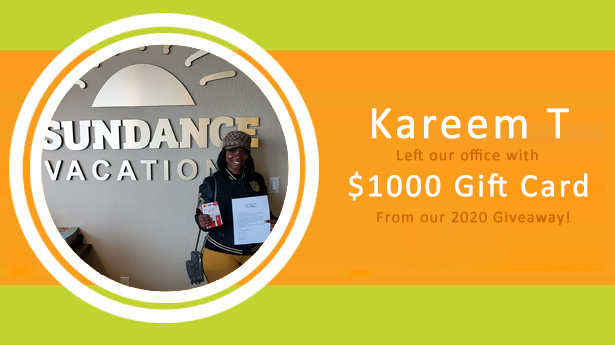 $1,000 Gift Card Winner
Our lucky winner of our $1,000 gift card giveaway was Kareem T.
---
Event Getaway
Lena won the Sports/Music Fanatic Giveaway of 4 tickets to any sporting/music event of up to $1,000 in actual retail value
---
55" HDR Smart TV
The 2020 TV winner is Keith M.
---
If you want to try your luck at winning one of these prizes, make sure you stop by when you see us out! If you enter at an event or online, you have a chance of being invited in to one of our offices for a multi-media presentation. The promotional trips change frequently and regardless of purchase decision, you'll receive that trip. Also, everyone that enters, is automatically entered into our grand prize sweepstakes. Make sure to check out last years winners, and all previous sweepstakes winners here! For more information, updates, travel tips and news from Sundance Vacations, be sure to follow us on the following social media outlets:
Latest posts by Sundance Vacations
(see all)