Sundance Vacations Sweepstakes Giveaway!
Since 2003 Sundance Vacations has held a Grand Prize Sweepstakes contest giving away either $50,000 or a new car!
Why? Because we appreciate all the people who express interest in learning more about our travel services at various concerts, festivals and other venues we visit. If you enter at an event or online, you have a chance of being invited in to one of our offices for a multi-media presentation. The promotional trips change frequently and regardless of purchase decision, you'll receive that trip. Also, everyone that enters, is automatically entered into our grand prize sweepstakes.
This is the 2017 grand prize winner, Marvin W. from NJ.
Other winners during the Sundance Vacations Giveaway included:
Sundance Vacations Previous Winners
---
2016 Sweepstakes winner!
The 2016 Sundance Vacations contest winner was Andre and his wife Ksenia R. from Washington D.C.! In the 13 years that we have been doing this giveaway, each and every grand prize winner has chosen to take the cash.
Other winners during the Sundance Vacations Giveaway included:
---
2015 Sweepstakes winner!
The Sundance Vacations 2015 Sweepstakes $50,000 winner is Dr. Eric Orenstein from Indiana! Orenstein tells us that he will be using his $50,000 prize to help pay off his daughter's schooling. How would you use the $50,000?
Read the full story here to see the other winners: https://sundancevacationsnews.com/new…
"I think it's always worth taking a chance and you might win just like I won!" Eric O. said.
Other winners during the Sundance Vacations Giveaway included:
---
2014 Sweepstakes winner!
The 2014 Sundance Vacations Sweepstake winner is Philadelphia resident, Migdalia S.! Migdalia and her two daughters arrived in a Limo that picked her up from her house
To read a full press release about the winner, click here: "Sundance Vacations 2014 Giveaway $50,000 Winner"
Other winners during the Sundance Vacations Giveaway included:
---
2013 Sweepstakes winner!
Jennifer G. from Illinois was the winner of the 2013 Sundance Vacations $50,000 Sweepstakes Drawing!
In August of 2013, she filled out the entry at a Kane County Cougars game and to show our appreciation, we took her to a Cougars game to present the check live. Jennifer said she never won anything exciting before, so it was hard to believe! Scott, Sundance Vacations Director of Marketing, had to show up with the check before she finally believed it! When deciding on the cash or car, Jennifer said it wasn't a hard decision when she choose the $50,000!
Other winners during the Sundance Vacations Giveaway included:
---
2012 Sweepstakes winner!
Cheryl M. and her husband Jim from Anderson Indiana are lucky winners of the 2012 Sundance Vacations grand prize sweepstakes. They won just for filling out an entry form. They entered the contest at a Lapel festival in July of 2012! Even while receiving the check, Cheryl said she still has trouble believing it! Cheryl and her husband Jim from Anderson have chosen the $50,000 over the new car and plan to use the money to update their home. As Jim said, "It always pays to take your wife."
Other winners during the Sundance Vacations Giveaway included:
---
2011 Sweepstakes winner!
Brittany & Shylo M. from Cincinnati Ohio were the 2011 grand prize winners! The couple filled out their entry form while attending a bridal show at Duke Energy Center last January. Thanks to Sundance Vacations this newlywed couple can finally take their dream honeymoon!! As Brittany said, "Anywhere there's a drawing, put your name in it because you're not going to lose anything."
Other winners during the Sundance Vacations Giveaway included:
---
2010 Sweepstakes winner!
Kandi M. of New Jersey was the 2010 grand prize winner!
She was presented the check on Feb 22, 2011 at a Philadelphia Flyers game inside the Wells Fargo Center! Kandi entered the contest at a Toby Keith Concert, and like all previous years, Kandi continues the streak of choosing the $50,000 prize over the new car! They plan on going to the Country Music Festival in Nashville with the winnings! What would you do if you won?
---
2009 Sweepstakes winner!
This year's winner is Sandy Y. from North Benton, Ohio. Sandy entered the contest at Richmond Mall during Christmas time! Sandy was the sixth winner in the grand prize giveaway since the contest first started in 2003! So far, each winner has chosen the $50,000 giveaway over the new car. This was her first time winning anything like this, and as Sandy said in her interview, "Wow, sweepstakes do come true!"
---
2008 Sweepstakes winner!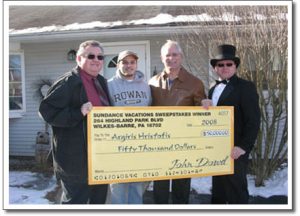 Argirs H. was the 2008 grand prize winner, and was selected from over one million national entries! The Sundance Vacations Prize Patrol surprised Argirs at his home with the big sunrise!
"I'm so thankful. Sundance Vacations, you just made my day, month, year, possibly life," said Argiris. He was presented with a $50,000 check at the New Jersey Nets game on February 25th, 2009. Read the full story here: sundancevacationsnews.com/latest-news/
---
2007 Sweepstakes winner!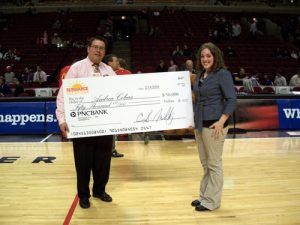 Andrea C. of Batavia, Illinois won the 2007 Sundance Vacations $50,000 Giveaway!
Andrea was selected from over one million entries! She was enrolled in graduate school at the time. "I am so excited that I won. I am currently in a masters program, and this will definitely help pay for it!" exclaimed Andrea. An official presentation ceremony was held at center court of the Chicago Bulls game.
---
2006 Sweepstakes winner!
John S. of Randolph Township, NJ won the Sundance Vacations Giveaway in 2006. John was our third sweepstakes winner, and like the first two decided to go with the $50,000 giveaway! John was selected from 811,000 national entries. He was presented with his $50,000 check during the Seton Hall basketball game at the Izod Arena.
---
2005 Sweepstakes winner!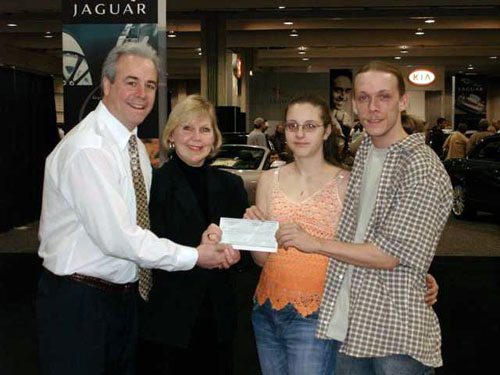 During the second year of our Grand Prize Sweepstakes, the entries jumped up to 650,000 national entries! This years winner was Mike B. from Pittsburgh, PA! Mike and Kristen Y. couldn't believe their luck when they first got the call. The lucky couple was presented with a $50,000 check next to the Sundance Vacations (NASCAR) Nextel Cup Car at the Pittsburgh Auto Show!
---
2004 Sweepstakes winner!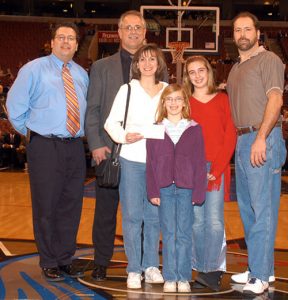 The first ever winner on our Grand Prize Sweepstakes was Felicia S. of Wyckoff, NJ was selected out of over 200,000 entries!
"We thought it was a prank from a radio station," said Felicia. The family was presented with their check for $50,000 at center court during a Philadelphia 76er's game.
---
Check out last year's giveaway winners: Sundance Vacations Sweepstakes 2016 Winners. When you go to concerts, malls, fairs or other events, make sure to be on the lookout for a Sundance Vacations booth! All you have to do is meet the qualifications, fill out the form, and then you are entered to win!
Be sure to enter our sweepstakes next time you see us at an event or fill out a raffle online by seeing if you qualify for a trip on Sundance Vacations.
For more information, updates, travel tips and news from Sundance Vacations, be sure to follow us on the following social media outlets:
Sundance Vacations is atravel company with offices in New Jersey, Washington DC, Pittsburgh, and, Northeastern PA that specializes in providing destination based vacations to travelers who appreciate budget-friendly travel.
Latest posts by Sundance Vacations (see all)