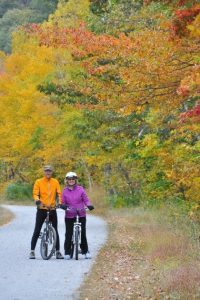 Experience Pennsylvania's most beautiful trail this fall!
As leaves are changing color and the weather is starting to get colder, their will only be so much time to be outside and enjoy the weather and fall views.
A great way to enjoy the outdoors during the most beautiful time of the year is with the Fall Foliage Bike Ride!
The Fall Foliage Bike Ride starts at 10:00 AM on Saturday, October 14. Registration for the ride is due by October 10.
Pedal at your own pace down the 25-mile trail following the Lehigh River from White Haven to Jim Thrope. The path follows the old Upper Grand Lehigh Canal and Lehigh Valley Railroad and consist of an abandoned railroad bed and follow the river all the way through the Lehigh Gorge State Park. Once you reach the end of the trail you will take a shuttle back to White Haven at 4:00 PM. The trail takes between 3 – 5 hours so you'll have plenty of time to explore and enjoy the scenery!
Scenery you'll be able to see on the trail consist of; fantastic rock formations, tumbling waterfalls and abundant wildlife.
You can take a break and picnic, or explore the ruined locks of the former Lehigh Canal. You can also check out the Penn Haven Planes, a relic from the early railroad era.
You'll also learn about their effort to connect the entire 165-mile D&L Trail from Wilkes Barre to Philadelphia.
---
More about the D & L Trail
The Delaware & Lehigh National Heritage Corridor (D&L) is a 165 miles long trail that stretches from north to south, across five counties and over one hundred municipalities. The full trail is from Wilkes-Barre to Philadelphia and incorporates rail trails, rails with trails, share-the-road sections, and canal towpaths.
The Delaware & Lehigh National Heritage Corridor is a 501(c)3 non-profit organization that preserves the historic pathway that carried coal and iron from Wilkes-Barre to Philadelphia. Today, the D&L Trail connects people to nature, culture, communities, recreation and our industrial heritage.
---
Make sure to keep up with all Events Sundance Vacations support!
For more information, updates, travel tips and news from Sundance Vacations, be sure to follow us on the following social media outlets:

Robert writes for Sundance Vacations' Charities, Blog and News site as the Digital Media Coordinator.

Latest posts by Robert Orloski (see all)