Sundance Vacations Co-Founder Supports Family Promise
Sundance Vacations co-founder Tina Dowd is the board president for Family Promise of Carbon County, a chapter of the organization that helps many causes, including eliminating homelessness in the county within the state of Pennsylvania.
Family Promise of Carbon County strives to decrease the amount of homeless people living on the streets of Palmerton, Lehighton, Jim Thorpe, Bowmanstown and Weatherly in northeastern Pa. by raising awareness of how the issue affects their neighborhoods.
The Carbon County chapter's latest initiative is to "flush out homelessness."
Carbon County has almost 12 percent of its total families living below the poverty level.
Many families become homeless due to extenuating circumstances, like the loss of job or even medical expenses. In 2015 alone, 22 families —which included 65 individuals — were helped locally by Family Promise of Carbon County through a 90-day-sober-living program.
The Family Promise members announced their new homeless-eliminating initiative last Friday at Palmerton High School's homecoming by bringing brightly colored toilets to their football field to preface their upcoming fundraiser.
They announced that six toilets will be placed on community member's lawns with a letter asking for their support to aid local homeless people. If the person donates $25 to the Family Promise within 24 hours of the toilet being planted on their property, the family can have a Family Promise helper, AKA "the plumber," move the toilet to another person's lawn of their choosing.
"We challenge ourselves to find fun and creative ways to raise money for the homeless shelter program," Dowd said when referring to the new program that was designed to educate her community about homelessness in their area.
They encourage others to post photos of themselves and their colorful toilet on social media using the hashtags #FlushOutHomelessness and #ClogTheToilet.
Dowd hopes that people embrace this playful fundraiser and use it as an imaginative way to bring attention to an important issue.
Think of it as the "Ice Bucket Challenge" without the chill!
Toilets will be planted on unsuspecting community member's lawns this upcoming weekend, October 1 and 2.
For more information on Family Promise of Carbon County, visit their Facebook page or our page for them on our Sundance Vacations Charities site. Please see additional details about how you can help on the flyer below.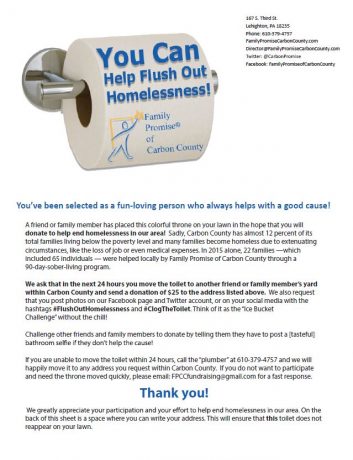 Latest posts by Jennifer Villa
(see all)