With the celebration of Independence Day on July 4, the month of July is arguably one of the most patriotic months of the year in America, and travelers will find few vacation destinations that are overflowing with more patriotism than Williamsburg, Virginia.
But, there is more to this travel spot than just history, there are a number of things that will make a vacation here completely worthwhile, no matter who you take. From thrilling amusement park rides to and heart-pounding ghost adventures to unwinding over a glass of wine or round of golf, Williamsburg has a little something for everyone in your travel group.
Sundance Vacations offers three properties in the Williamsburg area, all within a 30-minute drive from all of the major attractions, and each one of them has onsite attractions of their own. The Colonies at Williamsburg, Greensprings Vacation Resort and the Williamsburg Plantation all offer indoor and outdoor pools, playgrounds for the kids and tennis courts too. Travelers will have plenty to do right on the property, making for a perfect home away from home.
When you're ready to leave and venture out to see some of the local attractions that Williamsburg has to offer, you'll be excited to know that just a short drive will get you to shopping, dining, entertainment and more.
Go back in time and celebrate Colonial America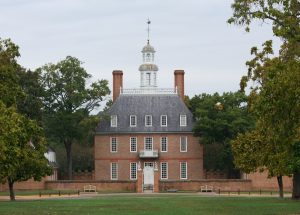 In the 1920s, when most of the colonial-era buildings were falling into disrepair, it was an unlikely source that came in to restore and shape the Williamsburg area into what it is today. Drawing from the inspiration of William Archer Rutherfoord Goodwin (W. A. R. Goodwin), a local reverend, John D. Rockefeller Jr., the son of the great American businessman John D. Rockefeller, came through with a very large monetary commitment to help purchase and restore the land and buildings of the area to that of their colonial time.
Since the time of their restoration, re-creation and updates, Williamsburg has become one of the most-visited historical sites in the country. Over 100 million people have come to see the Colonial-era town since 1932. With multiple educational programs, displays and museums, travelers will not only get a look back into the past, but learn something too.
Three art museums and Bassett Hall all offer a look back at works of art and the way things were. Bassett Hall allows a look at what the Rockefeller's considered their retreat away from busy life as well as the decorating style of John's wife, Abby. Each building offers different programs and tours throughout the day, so no matter when you go it's sure to be an educational and enjoyable experience. To get more information about ordering tickets for the museums, check out this page on the Colonial Williamsburg website.
A lot of Williamsburg can be experienced by just walking around the town. You'll see reenactors that will cover the varying degrees of citizenship of the town, see the daily life they lead and be able to get a look at what everyday life was like during colonial American time. With nearly every building designed to create the feel of colonial times, travelers will be able to eat and drink at an old-time tavern, stroll the streets and see performances and even do some shopping in the open Market Square. There are plenty of buildings to tour from the Capitol to the Governor's Palace and the only thing you'll struggle with is finding a place to start.
Whether you are an avid history buff or you just want to take the kids to do something educational on their summer vacation, Colonial Williamsburg can provide plenty of things to do and see that will keep everyone interested and learning. Visitors will have enough activities to last them a day or two, depending on what you see and where you go, plus public transportation to get to and from their destinations. Click the map to the right for an expanded and full-size version.
Get your heart pumping and splash around
Just because Williamsburg is known for its historical attractions doesn't mean there is a shortage of things that will get your pulse racing. Although Williamsburg can be a perfect educational trip for kids, don't forget, even at school they get recess! A trip to Busch Gardens and Water Country USA will certainly excite both the young and old and bring you roaring back to present day.
With over 35 rides inside of the amusement park, including the infamous Alpengeist roller coaster, and over 15 water attractions at Water Country USA, the combination of the two can be a perfect way to bring yourself, and the family, right back into the 21st century. An ideal spot for both the kids and adults in your travel group, the two parks are run by SeaWorld Parks and Entertainment, the group behind 11 other amusement parks around the United States.
Aside from the many rides and slides you may find inside of amusement park property, Busch Gardens also has a number of shows, events and concerts that can stimulate the senses. From Independence Day fireworks around the July 4th holiday to a Beer Festival in the month of September, the park will have plenty of options to pair with their attractions to help add to any traveler's vacation.
New to the show category of Busch Gardens this summer is the All For One action and adventure show. Beginning on July 1, this show, based on the relationship of the French Musketeers, will take the audience on a journey full of duels and damsels in distress as the Musketeers quest to save the Queen. Reserved seating is available for the show with an extra $10 paid ticket and travelers can also pay a price of $23.59 to enjoy a meal along with their reserved seating for the show. For more information and show times, check out this page on the Busch Garden's website.
Whether it's roller coasters and thrills you seek, or a chance to get in the water and cool down from the summer sun, the combination of Busch Gardens and Water Country USA will solve either of those and more. You can find hours, ticket prices and more on their website here: "Busch Gardens and Water Country USA"
Hit the links
Although Williamsburg may feature a lot of history, the area's golf scene is cutting edge. With seven nearby places for golf, including some with multiple courses, the area is one of the best in the Mid-Atlantic region. In fact, the Golden Horseshoe Golf Club offers two, 18-hole courses as well as another 9-hole course and was rated as the Best Golf Resort in the Mid-Atlantic region for 2016! Plus, with numerous other awards and nominations by multiple golf publications, it's no wonder why this resort ranks so highly in the area. Currently, one of the two 18-hole courses is under renovation, but the resort still offers golfers a challenge. To learn more about the courses, as well as how to book tee times and more, head over to their website by using the link above.
A little further to the south, Kingsmill Golf resort has two, 18-hole courses of its own. While the River Course follows along the James River, offering up some amazing views while playing, golfers may choose to play the Plantation Course as it was designed by both Arnold Palmer and Ed Seay. Whether you are a beginner or a skilled player, these courses will certainly offer a challenge to you. For prices and to request a tee time, refer to this page on the Kingsmill website.
To the northwest, Ford's Colony offers 54 holes across three golf courses, which means players can visit more than once and still find something new. While this set of courses may play second fiddle to Golden Horseshoe and Kingsmill, the quality of play doesn't dip at all. Both challenging and picturesque, Ford's Colony also has an onsite pro shop and golf academy to help you fine tune your game. To find a tee time or check out the prices, be sure to visit this page on the course's website.
Indulge yourself with wine, beer or spirit tastings
With four nearby wineries, three breweries, two distilleries and a meadery, Williamsburg can be a great place for the food and beverage aficionado. No matter what your flavor is when it comes to spirits, you'll be sure to find a place, or even a combination of places, that will wet your whistle.
If wine is your drink of choice, a trip along the Williamsburg Wine Trail will be ideal for you. Four wineries — The Williamsburg Winery, Saude Creek Vineyards, New Kent Winery and James River Cellars — dot the trail with the farthest being just 57 minutes away from downtown Williamsburg. Each of the four stops along the trail are unique, some offer wine tasting along with live music while others have full dining options for the hungry travelers. Both the James River Cellars and New Kent Winery offer a calendar of events that will allow you to plan ahead and find a night that you can't miss. For more information about the wine trail, and links to all of the wineries, check out their website.
Three breweries are within a 10-mile radius of Colonial Williamsburg and offer up some unique tastes in terms of beer. While all three of the locations — The Virginia Beer Company, AleWerks Brewing Company and Brass Cannon Brewing Company — offer tasting options in their tasting/tap rooms, only the AleWerks Brewing Company currently has tours of its brewing facility. So, if beer is more your ideal drink, there are options for that too. Also in the area, located in Williamsburg, is the Silver Hand Meadery. Offering the sales of the traditional drink mead, which is created by fermenting honey and water, the meadery also offers honey tastings as well. Both of which are available along with a free tour of their facilities, check here to find hours or to book a guided tour.
Two nearby distilleries — The Copper Fox Distillery and Williamsburg Distillery — each create different products for travelers to sample and purchase to enjoy. While the Copper Fox produces single-malt Whiskey, Rye and Gin, the Williamsburg Distillery offers a Bourbon, Gin and Silver Rum of their own. For the more "spirited" drinker, a stop at either of these locations would be an ideal way to spend some time on vacation.
Whether you have wine, beer, mead or spirit drinkers in your travel group, one or a combination of these tasting trails can be the perfect addition to your vacation. Remember though, relax, have a drink and enjoy your vacation responsibly.
Go looking for some spirits of a different kind
Did you say, g-g-g-ghosts?!
You bet we did, and there are two really great options if you decide to go searching for things that go bump in the night.
The official Colonial Williamsburg Ghost Walk, which meets in front of the William Pitt Store, runs twice a night (7 and 8:30 p.m.) and takes ghost hunters on a walking tour of the city after the sun goes down. Guides of the tour will tell stories of ghosts and former townsfolk along the way, plus you'll also hear stories of experience from the people that it happened to along the way. You'll need to purchase tickets in advance in order to take part in this event. Adult tickets (age 13 and up) run $10, kid tickets (ages 6-12) are $5 and children under the age of six are free. To purchase the admission online check out this page on the Colonial Williamsburg website.
Also available is the Spooks and Legends Haunted Tour, which is currently ranked as the number one ghost tour in the area on TripAdvisor. The company, which is run by locals, offers two separate tours and a package that combines them both. The "Dead of Night Ghost Tour" is conducted as the first of the evening around 9 p.m. while the "Witches of Williamsburg Tour" occurs on Fridays and Saturdays only at 10:30 p.m. While other ghost tours in the area may have some historic filler, the people at Spooks and Legends promise that their tours are filled with stories and accounts of people that have come into contact with ghosts. Tickets, again, should be purchased in advance for this tour and you can do so online. To acquire them use this link: "Spooks and Legends Haunter Tour Tickets" and for directions and more information, click onto this page.
If you are looking for even more information about Williamsburg, Virginia, including places to eat, average temperatures and transportation tips, check out the Things to Do page for Williamsburg over on the Sundance Vacations website.
For more information, updates, travel tips and news from Sundance Vacations, be sure to follow us on the following social media outlets:
Latest posts by Russ Hryvnak
(see all)